God, it's already Thursday and I've still have many unsettled business to handle.
(THURSDAY??.. Damn, I should be ready to leave for Down South tomorrow)
Yes, another trip to Singapore. Not that I'm complaining. Actually, I like it everytime I went there.
(coz it's hard for the people in KL to get me..hahah..)
Those of you in Singapore, if you haven't seen any performance by
Bhumiband
, please come to the field at Eunos MRT Station this Saturday at 2pm. The guys will be performing and 2 of them will
(forced by us..)
to demonstrate food preparation at the Food Fiesta at the field area.
(SEE YOU THERE)
Oh yeah, this trip, I'm heading back home in JB first before going to Singapore. (Siapa tak rindu mak bapak oii..) Not only that, since it's a long weekend, my everybody will be back in JB, Including my 2 cute and mischievous nieces. Saturday will not only be the date of the band's show, it is also my niece's
(Hanan Insyirah)
birthday.
(One year old and cathing up with the elder sister)
, as well as the dearest close friend of the band.. Sabrina's Wedding in Singapore later that night.
(OK.. now I'm thinking how to duplicate myself to be able to be everywhere at once.)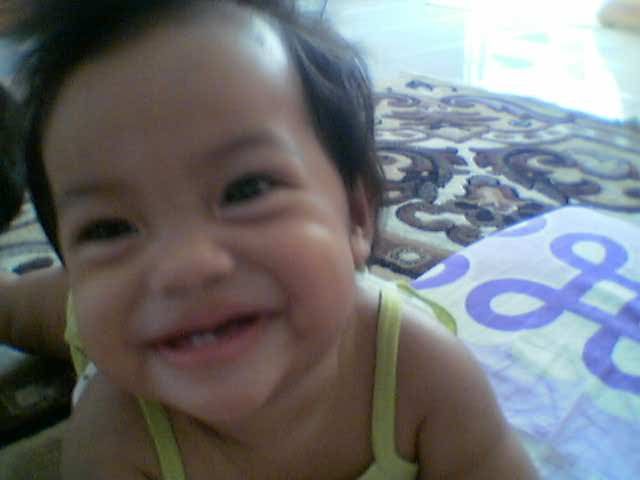 With that, I have no excuse but to be down south this weekend. For the first time since my involvement in 1999, this would be the first
AIM award
that I'm not attending. Not even involve in any way.
-
Good Luck to the nominees of AIM 2005
(More luck needed to the Jennifer Thompson and the event team)
-
Happy 1st Birthday to my lovely niece, Hanan Insyirah
(confirm tok mama dia buat pulut kuning for her..)
-
Selamat Pengantin Baru to Sabrina
(OK OK.. I'll be the DJ for that night..I've promised.)
-
Peterpan fans, come to Planet Holywood this Sunday at 2pm for their showcase there.
(I'll be meeting them tonight, before I leave)
-
Tentang Dia starts public screening today!!
(GO AND WATCH IT LA DEYY!!)
Err.. that's all for now folks!
END
p.s I'll be going to Kuala Terengganu on 4th May for Layar Tanchap. Anybody want to join me?