I accompany Loloq last Sunday to Taiping where he'll be acting for a scene in a new comedy film about the 80's rock scene in Malaysia. And the scene shot on that day
(or night..)
was the end scene for the movie where, rock bands compete against each other to be the champion in Battle of the Bands.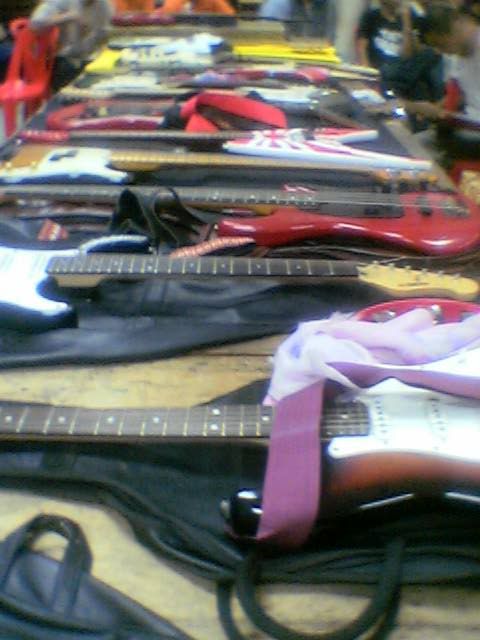 All the guitars used for the movie
This is where many cameo appearences involved. Among them are Shidee of Dead Mushroom, Zua XPDC, Loloq and S Amin Shahab.
But the most important featured personalities for that scene was the judge for the
'competition'
who are none other than
Amy Search, Man Kidal of Lefthanded
and the man who crafted the film 'Kembara Seniman Jalanan' himself.. the outspoken and talented
Nasir Jani.
L-R Amy Search, Nasir Jani

(that's not his real hair)

and Man Kidal
Being around the set.. just gave the feeling as if time stood still and there's still marks from tht 80's rock scene that started a new wave in the Malaysian music scene.
Anyway, how many of you guilty for being involved in the 80's Heavy Metal era?.. directly or indirectly... Anybody??
Imigine this.. tight jeans, long blown hair, hi-cut sneakers (preferably 'kasut Aliph'), chain necklace, eye-liner, rock chicks, leather jacket, v-shape electric guitar, band emblem, high pitch wailing.. and the list will go on and on...
RAISE YOUR HAND PEOPLE.. and
LONG LIVE ROCK AND ROLL!!